Description
প্রোডাক্ট এর বিবরণ :
ইলেকট্রিক বেবি নাসাল অ্যাসপিরেটর নাসাল মিউকাস ভ্যাকুয়াম ক্লিনার শিশু বাচ্চাদের জন্য মডেল – AN88

পরিষ্কার করা সহজ: টিপস এবং সংগ্রহের কাপটি সহজ ভাবে গরম সাবান পানি দিয়ে আলাদা করা যায়। আপনার শিশুকে ব্যাকটেরিয়া বা অন্নান্য জীবাণুর সংস্পর্শে আসবে না আর ,এই বিষয়ে আপনি সম্পূর্ণ চিন্তা মুক্ত থাকবেন । নতুন মায়ের জন্য উপযুক্ত উপহার।
নিরাপদ এবং নির্ভরযোগ্য: আমাদের এই স্মার্ট ক্লিনার অ্যাসপিরেটরের 5 স্তরের সাকশন রয়েছে এবং ২ আকারের নরম পুনঃব্যবহারযোগ্য সিলিকন টিপস যা দিবে আপনার শিশুর যেকোনো আকারের নাক এর সাইজ এর জন্যে নিখুঁত ক্লিন। নাসাল অ্যাসপিরেটর বেশি শব্দ না করে আপনার শিশুর শ্লেষ্মা অপসারণ করবে, যাতে আপনার শিশু সহজে শ্বাস নিতে পারে এবং ভালোভাবে ঘুমাতে পারে। এবং 40KPa এর মৃদু টান শিশুর ঘুমানোর সময় ও নাক পরিষ্কার করতে পারে।
মৃদু কিন্তু শক্তিশালী: নাসাল অ্যাসপিরেটর বেশি শব্দ না করে আপনার শিশুর শ্লেষ্মা অপসারণ করবে, যাতে আপনার শিশু সহজে শ্বাস নিতে পারে এবং ভালোভাবে ঘুমাতে পারে। গ্রিপটি আরামদায়ক, এবং একটি হাত দিয়ে শিশুকে কোলে রাখার সময় এটি ব্যবহার করা সুবিধাজনক। লাউ আকৃতির ডগা ০-২ বছর বয়সী নবজাতকদের জন্য উপযুক্ত, এবং ফানেল আকৃতির ডগা ২-৮ বছর বয়সী শিশুদের জন্য উপযুক্ত।
মসৃণ ডিজাইন: ইলেকট্রিক নোজ ক্লিনার হল এরগনোমিক ডিজাইন, জিরো ইস্ক্রু এক্সপোজার, একটি বাটন এর সহজ ধাক্কা দ্বারা নিয়ন্ত্রিত যা এক হাতে ব্যবহার করা যাবে।
ইউএসবি রিচার্জেবল: ইলেকট্রনিক নোজ অ্যাসপিরেটর রিচার্জেবল এবং এটি একটি ইউএসবি চার্জিং ক্যাবল দিয়ে সজ্জিত।
স্পেসিফিকেশন:
উপাদান: সিলিকন, ABS
সর্বোচ্চ ভ্যাকুয়াম সাকশন: 350mmHg (60kpa)
স্টোরেজ শিপিং পরিবেশ: -10-+55 ডিগ্রীসি
হেডগিয়ার উপাদান: নরম সিলিকন
আকার: 20×4 সেমি
অপারেটিং পরিবেশ: 16-35 ডিগ্রী সে
রঙ: ছবিতে যেমন আছে

Electric Baby Nasal Aspirator Snot Sucker Nose Mucus Boogies Vacuum Cleaner for Infant Kids AN88
Easy To Clean: Simply open the detachable tips and the collection cup with hot soapy water. You'll never worry again about exposing your baby to bacteria or mold. The perfect gift for New mother.
Safe And Reliable: 5 levels of suction power and 2 sizes of soft reusable silicone tips in electric nose cleaner, provide perfect suction for every size nose while not harming your baby's delicate sinuses.
Five levels, Gentle But Powerful: Our nasal aspirator has 5 levels of suction, Nasal Aspirator will remove your baby's mucus without making much noise, so your baby can breathe easier and sleep soundly. And the gentle suction of 40KPa can clean the nose while the baby is sleeping.
Smooth Design and Portable: Our nasal aspirator is light in weight and easy to carry. Electric Nose Cleaner is ergonomic design, zero screw exposure, controlled by the simple push of a button allowing for one handed use. The grip is comfortable, and it is convenient to use when holding a child with one hand. The gourd-shaped tip is suitable for newborns aged 0-2, and the funnel-shaped tip is suitable for children aged 2-8.
USB rechargeable: The electronic nose aspirator is rechargeable and is equipped with a USB charging cable.
Specification:
Material: Silicone, ABS
Maximum vacuum suction: 350mmHg (60kpa)
Storage shipping environment: -10-+55 degC
Headgear material: soft silicone
Size: 20x4cm
Operating environment: 16-35 deg C
Color: As the picture show

1 x Baby Nasal Aspirator
2 x Silicone Head
1 x USB Cable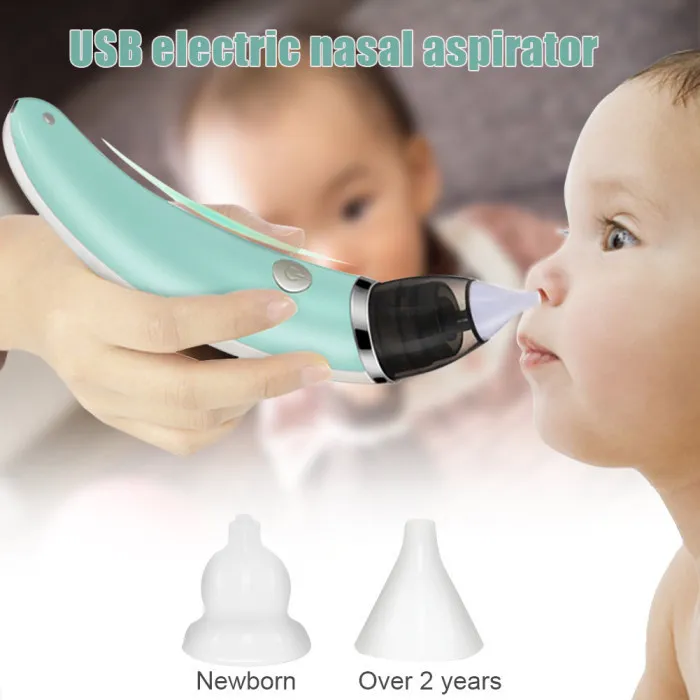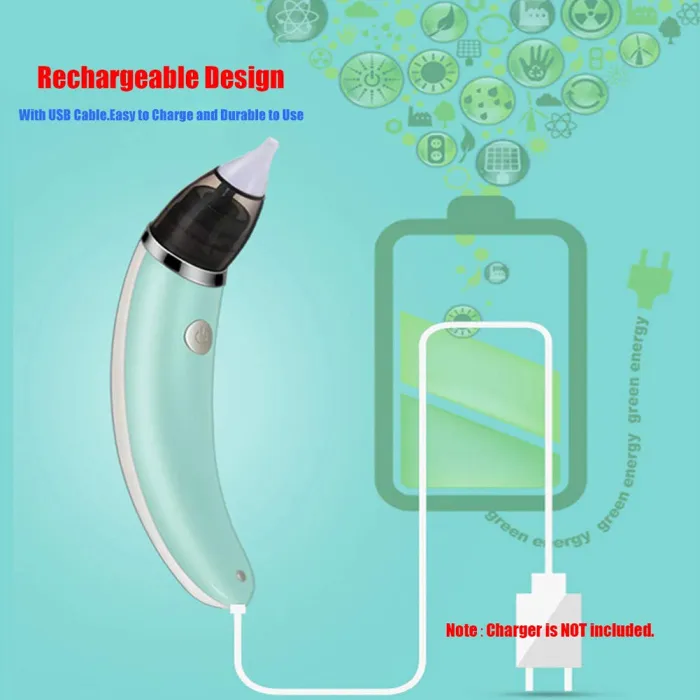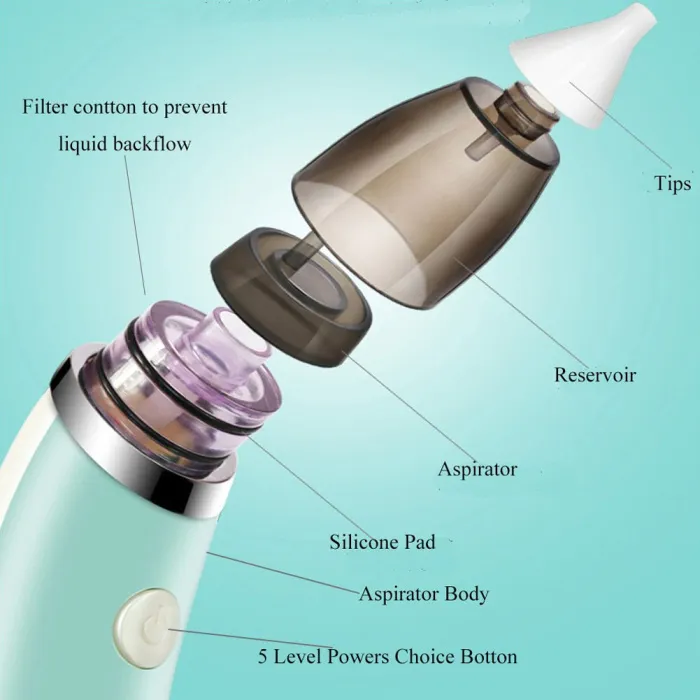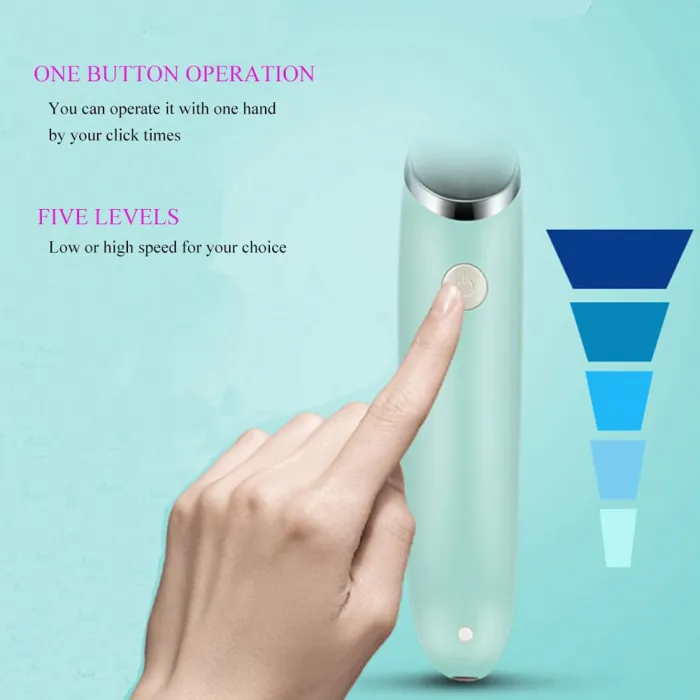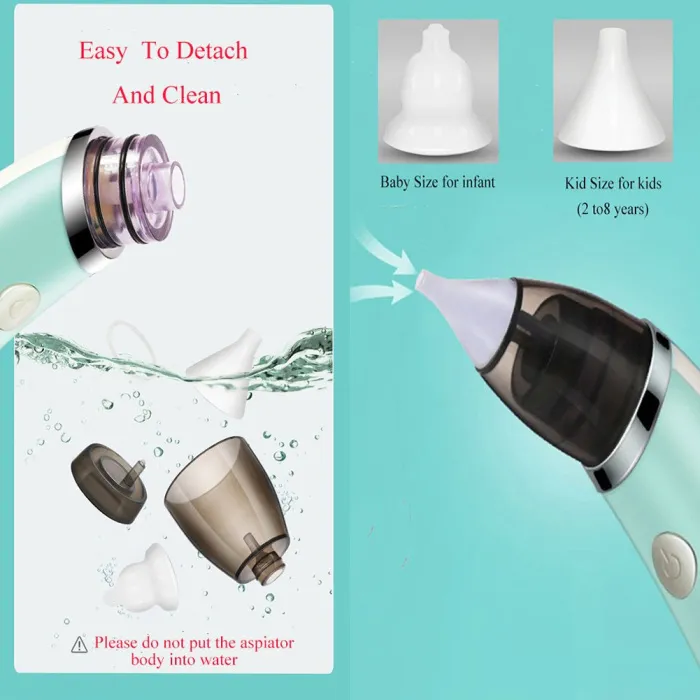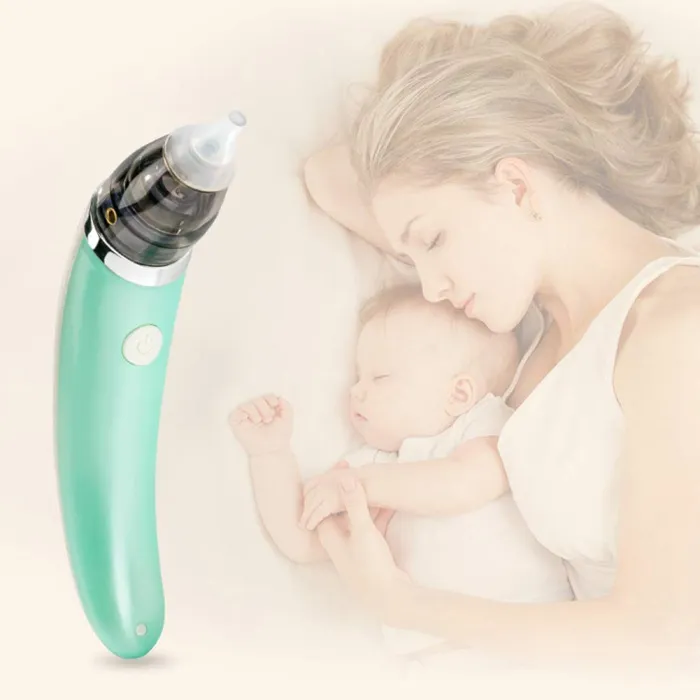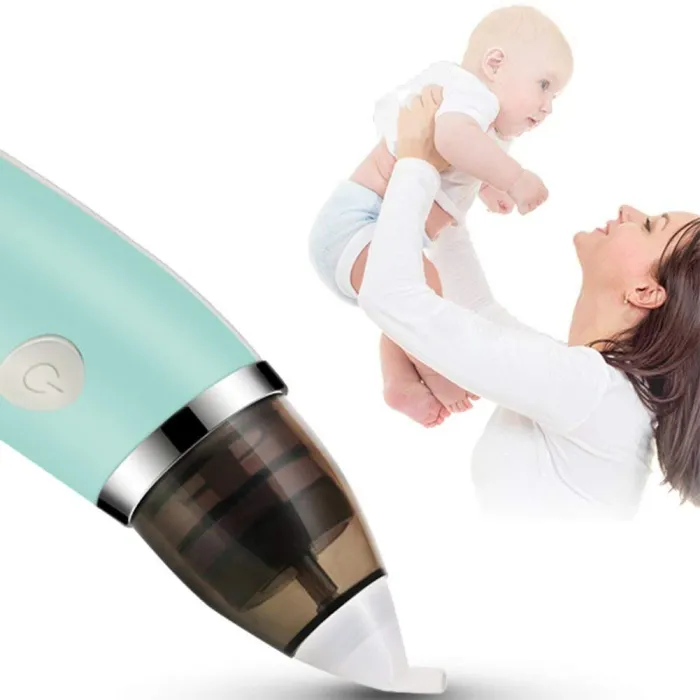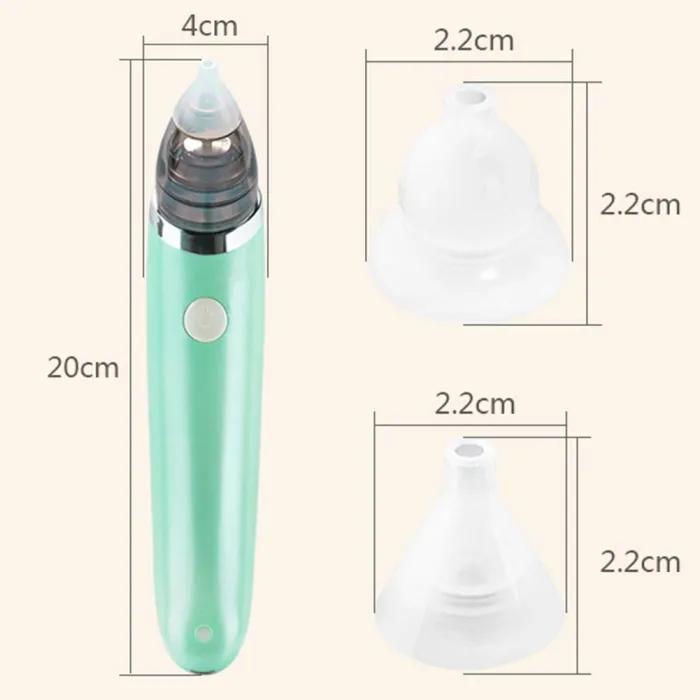 If you are satisfied with our product and service, please give us a positive feedback with 5 star review which is very important for us. We will be very appreciate if you can leave your real feeling here.
If you are not satisfied with the items or our service, please contact us before leaving any feedbacks, we will resolve the issue immediately, thank you!